31 Jul

August's Member Spotlight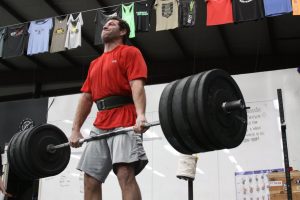 August's Member Spotlight goes to a guy who embodies so much of what this sport is about. CrossFit is all about hard work, silent hustle, and being humble. It's about supporting those around you and motivating people and leading by example. Our Member Spotlight this month is on Anthony Sheridan.
Anthony "Coach" Sheridan came to 643 a little over a year ago, at the suggestion of another one of our amazing members, Captain Ed McCusker. Anthony was a former College Football Player, who had gone the way many of us do. Stopped working out, put himself on the back burner to focus on the family and kids. Nothing wrong with that right? Well as we have all come to learn and know, if you are not willing to give yourself one hour a day to take care of yourself, then you may not be around long enough to take care of that precious family.
Anthony immediately took to CrossFit. I remember one of his first day in class he got done his workout and immediately began cheering on his fellow athletes. I remember thinking this guy really gets it. Anthony has spent the last year committing to his fitness. He has focused himself to improving his lifts and gymnastic skills, he's consistent with his class attendance, he's dialed in his diet, and it has really paid off. In the past year Anthony has shed 40 lbs., which is a testament to his hard work and dedication.
Anthony has recently started coaching again. He's on the coaching staff of the Washington Twp. Football Team. It's no coincidence that he understands things like teamwork, support, motivation, and comradery. He's been practicing these things his whole life. And those kids are going to learn so many things from Anthony. I bumped into the head Coach the other day and we started talking about Anthony. He was saying how lucky he was to have him on the staff… and I couldn't agree more. We are so lucky to have him in the gym.
During the CrossFit Open this past year, one of my favorite memories was during 18.4. That was the deadlift, handstand push up workout. It was Friday night, the gym was electric. I was doing the photog thing trying to get acceptable pics of everyone… and I remember there was about 30 seconds left in the workout. I turned the camera around to see what was going on behind me. It was Anthony, absolutely BEASTING the second weight on the deadlifts. 315 pounds on the barbell, and Anthony was making it look like a feather. He looked like he was having the time of his life…and that is what makes him special. He enjoys the pain, he gets that it's not easy, but it's worth it. The beauty of this sport is in the struggle, it's in the pain, and it's in the hard work. Coach Anthony… you my friend are one cool ass CrossFitter.
Here's a little more about Anthony
Name: Anthony Sheridan
Age   42
What is your athletic background?
Growing up I played all sports; however, I played college football
When did you start CrossFit?
March 2017
What brought you to 643?
I was talking to Ed Mc Cusker during a basketball game, and told him that I needed to get back into shape, but I didn't want to do the traditional gym… He recommended that I check it out.
What Class do you attend most frequently?
I would say 5:30/6:30, but in summer I try to go to 9:15 (teacher perk)
What's your favorite movement?
Snatch and bar muscle ups
What are you goals for the future?
Butterfly pull-ups and ring muscle ups and I want to inspire others to get fit and have fun doing it!!!